Caution! Forsage is an offshore company! Your funds may be at risk.
RECOMMENDED BROKER
Forsage Key Features
🔴 Forsage's services are questionable – a warning sign!
🔴 Forsage isn't licensed – a red flag!
🔴 Forsage isn't transparent – a red flag!
🔴 Forsage creates unrealistic expectations – a red flag!

Forsage Products and Services
Forsage is a Ponzi scheme exposed by the US regulator SEC. The screenshot above shows what SEC executives say about Forsage, but let's look at the scheme itself and see if there are any signs suggesting it's a Ponzi! To avoid beating around the bush, we've inserted a screenshot at the bottom of this section and will discuss it. As you can see, people who buy 5 slots for 190 BUSD should expect to receive $2128 in return, which means that the profitability is more than 1100% for one cycle (whatever this should mean). 1100% is nothing else but a fraudulent offer, and it indicates something wrong is going on there! This a scam!
Scams involve investments with ultra-high ROIs, get-rich-quick schemes, or guaranteed profits. Always be wary of investment possibilities that offer a large return with little or no risk — if it seems too good to be true, it most likely is, so that's potentially a scam. Also, note that during volatile times, any investment that regularly increases month after month—or that produces astonishingly stable returns independent of market conditions—should raise questions. Even low-risk investments are not entirely secure. Therefore, every time you see promises for risk-free guaranteed profits, you should remain sceptical because these people aim to create a false sense of security. Beware!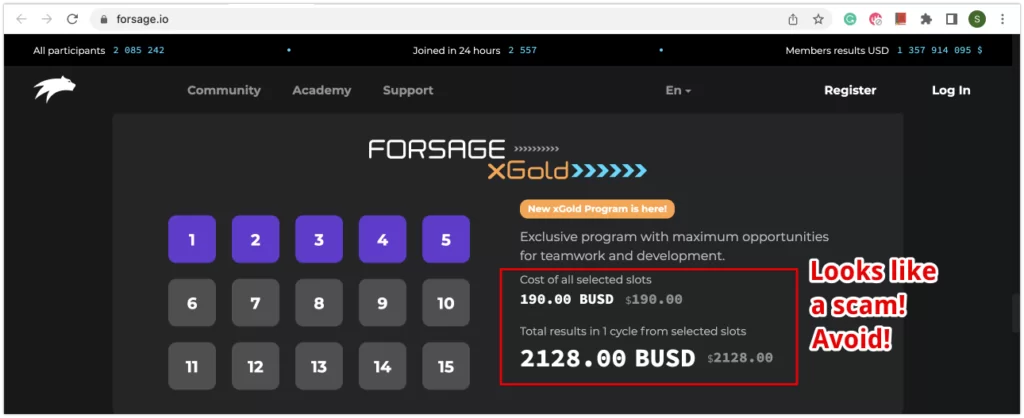 Forsage Company and Regulation
Forsage is presented as a decentralised crypto business, so talking about registrations and regulations becomes basically worthless. However, it's worth noting that the US regulator SEC charged 11 individuals in an alleged $300 million Ponzi scheme – yes, that's Forsage! It's a scam, and you should avoid it no matter what!
Almost all regulators frequently update their warning lists with shady business entities selling financial products and services without authorization. In other words, all these companies are breaching financial rules and regulations; therefore, they are unsafe and, most usually, scams. Needless to say, you should avoid any company with a warning on its name.
The US regulators are no exception. For example, SEC has its PAUSE list, including business entities falsely claiming to be registered, licensed, or located in the States. The PAUSE Program also lists impersonators, fictitious regulators, governmental agencies, or international organizations- scams, in other words. Additionally, CFTC maintains a RED list (Registration Deficient List) containing names of unauthorized foreign entities that appear to be acting in a way that requires registration with the CFTC. However, the RED list inclusion doesn't necessarily mean that the particular entity has been caught in violation, but you'd better remain cautious.
The bottom line is that you should avoid any investment scheme with a warning on its name, and generally, any firm that's not regulated but offers financial services.
Forsage Address and Contacts
| | |
| --- | --- |
| Address: | None |
| Phone number: | None |
| E-mail: | None |
Forsage's contact information is expectedly missing. However, we should note that there are various communication channels – YouTube, Instagram, Telegram, Twitter and so on, but addresses and phone numbers are missing. Therefore, they make it impossible for people to reach them directly and ask them questions. What's more, all channels (Telegram, YouTube) are stuffed with marketing materials and posts only, so contacting these people becomes basically impossible unless you buy their slots! It's an unfair business practice and also shows a lack of transparency, which is a major red flag! So, with or without warning, there are strong indications that Forsage is a scam!
For investments, transparency is essential since you should know who is managing your money and where it actually is. Legitimate businesses always operate in a transparent manner, and they are required by law to disclose their headquarter address, phone numbers, and all legal documents that detail the provisions of the service. And our experience tells that if you can't reach these people over the phone number provided, can't verify the locations, or can't confirm in any other way that the investment provider is authorized to sell financial goods, then that's most likely a fraud. So, regardless of the warning issued, we can guess there is something wrong with the investment scheme in question.
Forsage.io Website Info
SimilarWeb Ranking
179,704 at the time of writing
IP
172.64.104.12

Server

Country 
USA
WHOIS Reg. Date
2022-01-04
Registrar
TLD Registrar Solutions Ltd.
SSL certificate
Valid
Owner
Redacted for Privacy
Administrator
Redacted for Privacy
Is Forsage Safe?
Forsage is not safe! It's an exposed Ponzi scheme you should avoid no matter what! We guarantee that you'll lose money to fraud if you deposit with Forsage!
Scam Warning
For various reasons, depositing with HYIPs and other unregulated investment schemes is highly not recommended. Above all, the lack of regulation strongly suggests a scam, as only regulated firms can offer investment services to the public. As you might expect, scams cannot thrive in a robust regulatory environment, where numerous customer protection rules are imposed, all of which are designed to make markets safer by actively preventing fraud.
Authorisation by regulators is only granted if the firm meets the standards governing how the entities should treat you as a customer and what kind of information they should provide. Each country's regulator keeps a register of licensed firms and the products and services each licensee is permitted to offer. Unauthorised firms, on the other hand, seek to avoid the controls that legal, authorised entities are subject to, thus leaving investors unprotected. Scammers, of course, want customers to be completely unprotected, which significantly facilitates fraud, and that's why they always work without a license.
The HYIPs, in particular, are usually operated as a Ponzi because many investors can withdraw initially, but sooner or later, the service will inevitably close. HYIPs usually target traders and investors with little or no experience by promising fictitious investment opportunities, allegedly delivering unrealistically lucrative gains. 10% or 100% per day certainly isn't a legit offer – that's a scam, and you'd better stay far away from entities promising get-rich-quick schemes.