Royalcapital-trades.com Key Features
🔴 Royalcapital-trades.com's services are questionable – a warning sign!
🔴 Royalcapital-trades.com isn't licensed – a red flag!
🔴 Royalcapital-trades.com isn't transparent – a red flag!
🔴 Royalcapital-trades.com creates unrealistic expectations – a red flag!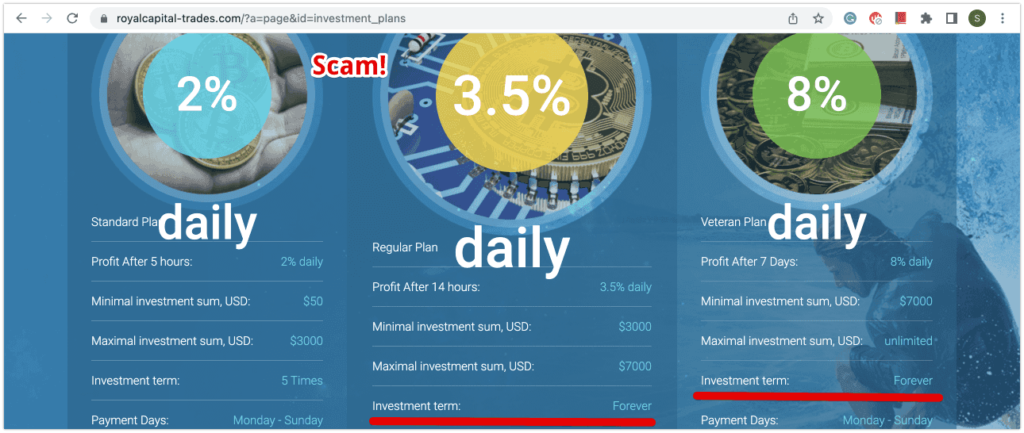 Royalcapital-trades.com Products and Services
Allegedly, Royalcapital-trades.com offers a revolutionary cryptocurrency investment model, and it's claimed to be the best cloud mining platform in the world. They promise big, but the particular opportunities raise suspicion, and we can tell it from the highly unrealistic profitability promised. In fact, it's technically impossible to deliver 8% daily earnings generated from crypto mining – it simply doesn't happen! Hence, Royalcapital-trades.com is just another potentially fraudulent HYIP programme you'd better avoid!
HYIPs are unregulated investment schemes offering questionable opportunities, to put it mildly. The promised ROI (Return in Investment) is just too good to consider trustworthy- at times, customers are reassured that they can make 100% or more per day, which can't happen in any possible way. To put it into perspective, even the largest investment funds can't secure more than 10% per year, let alone per day or week. So, given the products and services offered, we can decisively say that the service reviewed is highly suspicious and most likely fraudulent.
With that being said, you'd better stay away and have a look at other reliable opportunities, such as Forex brokers PAMM managed accounts, social trading platforms or regulated crypto providers. For example, many crypto exchanges are presently offering BTC and ETH staking that can bring a decent passive income on reduced investment risk. But in any case, make sure to trust your money to transparent and adequately regulated financial companies because markets are currently plagued by anonymous investment schemes, most of which are pure scams.
Royalcapital-trades.com Company and Regulation
Royalcapital-trades.com claims to be a legal company incorporated in Switzerland, but they cannot prove it. In fact, there is no evidence that Royalcapital-trades.com is registered anywhere at all, so the scheme appears to be totally illegal. On the other hand, it could be an offshore IBC that's practically inaccessible, but either way, we confirm that the so-called investment company is unregulated and risky! Beware!
The lack of regulation implies that the people operating the scheme are not supervised while working, meaning that clients' money will always be exposed to risks. To put things into perspective, duly licensed and adequately regulated financial firms are forced by the authorities to comply with many standards designed to guarantee customers' safety. For instance, to obtain a license, a company must meet minimum capital requirements that vary by country and depend on product specification or other factors. The condition is set to guarantee that firms should have enough money at their disposal to survive unforeseen events, remain stable and continue operations, inflicting no harm to customers.
The US minimum capital requirement is 20 million USD, which is actually one of the biggest among all. In addition, US financial firms should also keep customers' accounts segregated, ensuring that deposits won't be misused or misappropriated. However, we should note that the US regulatory framework is quite complex as there isn't a single financial authority, but many. The list includes NFA, CFTC and SEC, to name a few, and each of the mentioned control companies in one way or another. Additionally, each state usually has its own independent authority, making the US market significantly more complex than others. Regardless, the scheme reviewed isn't regulated by any authority anywhere in the world, so make sure to avoid it as it may as well be a pure scam.
Royalcapital-trades.com Address and Contacts
| | |
| --- | --- |
| Address: | Via delle Vigne 19, Vuiteboeuf Switzerland |
| Phone number: | None |
| E-mail: | [email protected] |
Royalcapital-trades.com's contact information is false – no such entity is registered at the above address. The lack of transparency is evident, and it triggers a major red flag – such issues always indicate a scam, and we should once again urge our readers to stay away from Royalcapital-trades.com!
Transparency is essential when it comes to investing because you should always know who is making the investment in your name and where your money really is. Legit businesses always operate transparently and are required by law to provide the public with their basic corporate information – addresses, phone numbers, e-mails, legal documentation outlining service provisions and so forth. It's very likely that you are dealing with scammers if you cannot independently verify the contact information given, and it's even a more treacherous sign if you come across an entity that doesn't even provide these crucial details!
Royalcapital-trades.com Website Info
SimilarWeb Ranking
None at the time of writing
IP
198.54.115.121

Server

Country 
USA
WHOIS Reg. Date
2022-06-28
Registrar
NAMECHEAP INC
SSL certificate
Valid
Owner
Redacted for Privacy
Administrator
Redacted for Privacy
Is Royalcapital-trades.com Safe?
Royalcapital-trades.com is not safe! It's a non-transparent, illegal, unregulated investment scheme advertising earnings that are technically impossible to deliver! That being the case, we confirm that your funds will be exposed to risks if you deposit with Royalcapital-trades.com! You'd better avoid it!
Scam Warning
For various reasons, depositing with HYIPs and other unregulated investment schemes is highly not recommended. Above all, the lack of regulation strongly suggests a scam, as only regulated firms can offer investment services to the public. As you might expect, scams cannot thrive in a robust regulatory environment, where numerous customer protection rules are imposed, all of which are designed to make markets safer by actively preventing fraud.
Authorisation by regulators is only granted if the firm meets the standards governing how the entities should treat you as a customer and what kind of information they should provide. Each country's regulator keeps a register of licensed firms and the products and services each licensee is permitted to offer. Unauthorised firms, on the other hand, seek to avoid the controls that legal, authorised entities are subject to, thus leaving investors unprotected. Scammers, of course, want customers to be completely unprotected, which significantly facilitates fraud, and that's why they always work without a license.
The HYIPs, in particular, are usually operated as a Ponzi because many investors can withdraw initially, but sooner or later, the service will inevitably close. HYIPs usually target traders and investors with little or no experience by promising fictitious investment opportunities, allegedly delivering unrealistically lucrative gains. 10% or 100% per day certainly isn't a legit offer – that's a scam, and you'd better stay far away from entities promising get-rich-quick schemes.