Caution! XM-binary is an offshore company! Your funds may be at risk.
RECOMMENDED BROKER
XM-binary Key Features
🔴 XM-binary provides access to clearly fraudulent investment plans – a warning sign!
🔴 XM-binary is under no regulatory oversight – a red flag!
🔴 XM-binary is not transparent at all – a red flag!
🔴 XM-binary creates irrational expectations – a red flag!
XM-binary Products and Services
XM-binary is not affiliated with the award-wining brokerage, XM in any capacity. The company is just trying to piggyback off the popularity of XM and its brand to defraud people around the world. This is highly reprehensible, and a clear sign of just what kind of company XM-binary is.
Secondly, even though the name of the firm is a clear reference to binary options trading, XM-binary does not have that available. That is because the firm is actually running a different business model – it offers access to the following investment plans: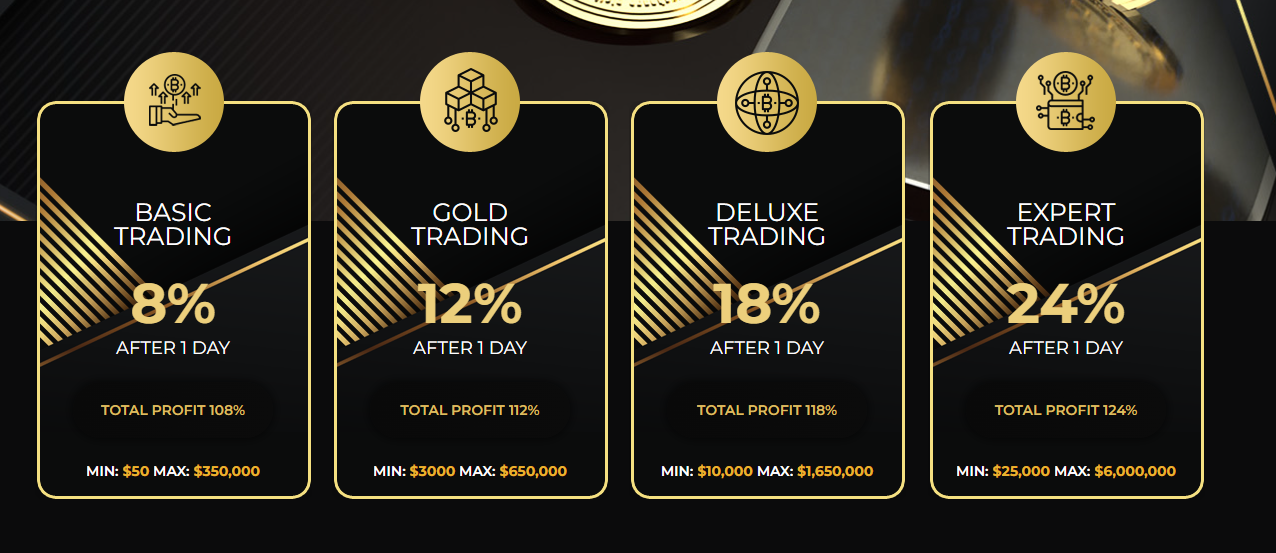 The issue with these plans is that they have impossible return rates within them. There is simply no company out there that can achieve a daily profit of 8% – and if XM-binary were that company, it would not be offering its service to just about anyone – the people behind the company would have taken out a loan and become rich beyond imagine! XM-binary is instead another HYIP – a scam, which you need to watch out for!
HYIP stands for High-Yield Investment Programme and these businesses usually promise higher ROIs (return on investment) than usual. In some cases, the offers are just ridiculous- up to hundreds and thousands of percentages per day, which certainly can't happen. To draw a comparison, even the wealthiest banks or investment funds are not capable of delivering more than 10% per year, let alone per day or week. Therefore, the products and services assessment suggests that you'll be at risk if you deposit.
That being so, it's worth considering trendy alternatives that can help you build an extra income, such as Forex brokers PAMM managed accounts, social trading or crypto services that may as well fulfil your investment needs. For example, many cryptocurrency exchanges already provide passive income opportunities like BTC and ETH staking but make sure to subscribe to well-known, proven networks.
XM-binary Company and Regulation
XM-binary is not a licensed firm. Unlike the XM group of brokers, who are all duly regulated, XM-binary is a shady company that wishes to operate without any oversight, as to avoid being held accountable for its schemes by its clients. This also means there are zero protections for said clients from the volatility of the markets!
The lack of regulation implies that the people operating this HYIP are working unchecked, meaning they can misuse or misappropriate your funds, eventually bearing no responsibility for their actions. To draw a distinction, regulated investment companies are forced by law to follow certain rules that guarantee the safety of clients' funds. For example, to get a license, a firm should meet minimum capital requirements that vary from country to country and may also depend on the product specification as there are many types of investments possible- stocks, bonds, mutual funds, banking products, fixed-income, retirements and so on.
In the US, the minimum capital requirement is 20 million USD, which happens to be among the heftiest in the world. Other than that, US financial services companies are also required to keep accounts segregated, thus ensuring that clients' money can't be exposed to unnecessary risks or stolen. However, it's worth noting that the US regulatory framework is very complex as there are numerous financial authorities, among which NFA, CFTC and SEC, to name a few, and all of these monitor companies in one way or another. The US markets may be tricky for the ordinary investor, so make sure to acquaint yourself with the environment before you've wasted money on potential scams like the one under review. And you'd better avoid unregulated investment businesses at all times.
XM-binary Address and Contacts
XM-binary does not have any of its contact information available, save from an email. There is no way that this email is sufficient for any company that handles more than, say, 10 clients – there is just no way to communicate with them efficiently via mail. And the fact XM-binary does not show its address is also quite concerning – the only companies that operate anonymously are scammers!
When it comes to investing, transparency is crucial as you should know who's running the investment and where your money actually is. Legit firms always operate transparently and are bound by law to provide the public with basic corporate information, including addresses, contacts and legal documents disclosing all provisions related to the service. And our experience shows that it's most probably a scam if you can't reach anyone over the phone given, can't validate the addresses or can't in any other way prove that the investment provider has the authorisation to offer financial products.
Xm-binary.com Website Info
SimilarWeb Ranking
None at the time of writing
IP
185.61.152.64

Server

Country 
USA
WHOIS Reg. Date
2021-01-01
Registrar
NAMECHEAP INC
SSL certificate
Valid
Owner
Redacted for Privacy
Administrator
Redacted for Privacy
Is XM-binary Safe?
XM-binary is not a safe company. After reviewing it, we can safely say we are dealing with a scam – be careful!
XM-binary update – 2022-02-09
Understandably, XM-binary has managed to get a lot of negative attention. The scammers behind the company have been exposed in a number of reviews all over the internet. Therefore, we are writing this update to warn you if you have invested with XM-binary – these kinds of scams are very short-lived, and there is a high likelihood of XM-binary getting shut down soon – either by the scammers themselves or the regulatory authorities.
If the website does get shut down, your money will be forfeit. And you will no be able to file a chargeback, since crypto payments are not eligible for a chargeback – if you are approached by a recovery agency that claims the opposite to be true beware – these agencies demand upfront payment to restore your losses, but are also run by scammers. Therefore, they will just add to said losses! Stay vigilant for further scams and be careful when investing your money online!
Scam Warning
Dealing with HYIPs and other unregulated investment providers is not recommended for many reasons. Above all, the absence of regulation strongly suggests a scam as only regulated firms are authorised to provide investment services. As you probably guess, scams can't flourish in a strong regulatory environment, so you'd better think twice before you've deposited with unregulated investment schemes.
The authorisation is only granted when the firm complies with the requirements and standards, which guides how the entities should treat you as a customer and what sort of information they should give you. Each country's regulator maintains a register of licensed firms and the investment services that each licensee is authorised to provide. On the other hand, unauthorised firms aim to avoid complying with the controls that legal, authorised entities are subject to, thus leaving investors entirely unprotected. Needless to say, scammers want to get you totally unprotected, and that's why they always work without a license.
As for HYIPs themselves, many of these schemes operate precisely as a Ponzi because many investors can actually withdraw initially, but sooner or later, the service will inevitably close. HYIPs usually target traders and investors with little or no experience by promising fictitious investment opportunities said to deliver unrealistically lucrative gains. 10% or 100% per day certainly isn't a legit offer.