Caution! Markets Pilot is an offshore company! Your funds may be at risk.
Markets Pilot Key Features
🔴 Markets Pilot Forex services are questionable – a warning sign!
🔴 Markets Pilot isn't licensed but strives to create a sense of security – a red flag!
🔴 Markets Pilot is registered offshore and isn't transparent – a red flag!
🔴 Markets Pilot was officially exposed by authorities – irrefutable proof that it's a scam!
Markets Pilot at a Glance
Markets Pilot starts waving red flags as soon as you open their website. They claim to be the most professional service with a "Real platform for Real traders", the best trading conditions and the latest assets. For example, they say that Markets Pilot was born with a clear philosophy: give everybody a practical and easy-to-learn way to get access to financial markets overcoming the obstacles that have always kept them outside, in favour of the wealthy, educated elite that people are accustomed to seeing as the only class up to that job. Markets Pilot also say that every trader should have access to this fascinating and profitable industry, and this is why they have created resources for learning, easy-to-consult and study strategies and a long list of other resources to ensure the success of their clients. Purportedly, once having learnt the basics through this system, customers will know how to put it to work on their platform and on the world financial markets.
They also say that Markets Pilot is up to taking this old nonsense down by providing our customers with all the learning resources needed to quickly become masters at the art of trading while receiving top-notch support from their team of seasoned professionals. In their view, the competition in an online trading platform is fierce, and that is why their efforts have always been centred on the customer and on his working/trading experience. Purportedly, with Markets Pilot, customers will get unprecedented features, like:
A flexible platform, easily accessible and usable from any modern device
The SSL security protocol is a standard widely adopted by banks and other institutions to ensure safety from identity, data and investment theft.
Complete transparency with competitive profits
An incredible toolbox complete with anything you need to begin trading right away.
People unaware of the matter might take these claims seriously, which is really a problem. For one thing, bragging about SSL certificates is simply ridiculous, and it doesn't show that Markets Pilot is trustworthy. The bigger problem is that Markets Pilot is not transparent at all! The brokerage is operated by only one company registered in the tax haven Commonwealth of Dominica, where the local regulator does not care to license or monitor brokers in any way whatsoever. The lack of regulation is a critical red flag, but the other very significant downside is that Markets Pilot is essentially an International Business Company (IBC) with unknown ownership and no obligation to grant access to its accounts. Put simply, whenever you deposit with Markets Pilot, you won't know who'll handle your money and where it actually is. The funds simply disappear somewhere offshore, and you'll have literally no way to reclaim your money if things go wrong.
And things will definitely go wrong as Markets Pilot is a pure scam, and we'll prove it in the following review.
Markets Pilot Products and Services
Markets Pilot advertises standard CFD trading products, including Forex, Cryptocurrencies and other instruments, which they do not fully specify. The issue here is that Markets Pilot lies once again! They claim to have one of the best trading platforms, which is a deception. The only terminal available is the web-based Sirix, which is a low-class software that does not provide any advantages whatsoever. Trading on poor Web traders is never recommended!
However, Markets Pilot does not stop creating a false sense of security and expectation. For example, they claim that they have engineered their platform to be an easily accessible gateway for any person with a computer and an internet connection, wherever he/she is located, and urge customers to begin trading right away with the help of Market Pilots' team of professionals and of their always-available, support team!
They also say that a platform is only as good as much as it is immediately actionable and easily understandable in all its functions, modes and options. They claim to know that, and this is why it's mandatory for them to set you up in a matter of minutes while providing an interface that is a real pleasure to work with – another piece of false information!
As a provider of trading services, Markets Pilot boldly states that fast and easy is not sufficient for them. They also say to take pride in giving customers access to the latest technologies and to an incredibly wide catalogue of assets, with all major Cryptocurrencies available on MarketsPilot for customers to begin trading immediately. Well, another lie – their selection of assets is limited! Any regulated broker will offer more instruments than Markets Pilot! However, that's not the last deception!
Namely, Markets Pilot claims to be widely adopted, saying that the best traders are using their platform. This statement is meant to make you believe that you can both rely on the best technology out there and study the pros and their techniques directly on the job! An absolute lie, and it shows what the actual purpose of Markets Pilot is – to mislead customers, entice them into a fraudulent scheme, and scam them out of their money! Avoid it!
Markets Pilot Company and Regulation
As already mentioned, Markets Pilot is not regulated, as it is a typical offshore broker and essentially an anonymous website with zero credibility. The offshore registration automatically turns Markets Pilot into a suspected scam, but in this particular case, it's an exposed one! The British regulator, among others, issued a warning against Markets Pilot, stating that the firm is not authorised and customers who deposit will trade under no protection. A warning against a broker is the final proof of a scam! Markets Pilot is confirmed fraudulent and should be avoided no matter what!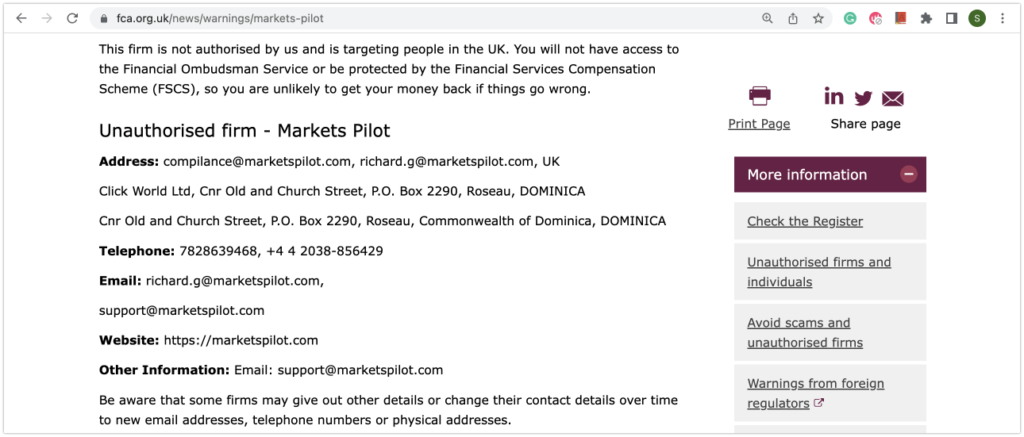 Markets Pilot Address and Contacts
| | |
| --- | --- |
| Address: | Click World Ltd, Cnr Old and Church Street, P.O. Box 2290, Roseau, DOMINICA Cnr Old and Church Street, P.O. Box 2290, Roseau, Commonwealth of Dominica, DOMINICA |
| Phone number: | 7828639468, +44 2038-856429 |
| E-mail: | [email protected], [email protected] |
Markets Pilots' contact information is unverifiable. At any rate, it's an offshore broker, so the company in Dominica serves to conceal the actual location of the scheme and the identities of the people running it. The absence of transparency is evident and triggers a major red flag, regardless of all the other problems. So, with or without warning, we would advise customers to stay away from Markets Pilot.
Is Markets Pilot Safe?
Markets Pilot is not safe! It's an exposed scam, and you should avoid it no matter what! We guarantee that scammers will steal your money if you deposit with Markets Pilot.
Scam Warning
Scammers are always riding the trends, so it's not at the least surprising that cryptocurrency fraud is now blooming. Even more so, the high-tech nature of Bitcoin actually facilitates scams as most people don't really know how crypto works, so scammers take advantage of the lack of understanding. Indeed, the crypto scam has been here for a while, and it proved to be extremely dangerous- just recall OneCoin, which happened to be a multi-billion Ponzi scheme disguised as a revolutionary digital currency. However, scammers rarely go out of their comfort zone, so most crypto scams are similar to the typical investment fraud!
The fraudulent schemes are anonymous and illegal, while scammers introduce themselves with fake identities. There are also too many impersonators resembling the websites of valid start-up companies from where customers get redirected to other insecure fishy payment portals that may as well carry additional security risks. The cons yet again promise the moon and the stars to their victims but won't deliver a thing in the end. However, the difference between crypto and the rest of the investment scams is that people are more likely to believe that they can become rich overnight, as Bitcoin has already proved to have massive profit potential. In any case, you should be very cautious when it comes to crypto, as the markets are plagued by scammers ready to take advantage of you.